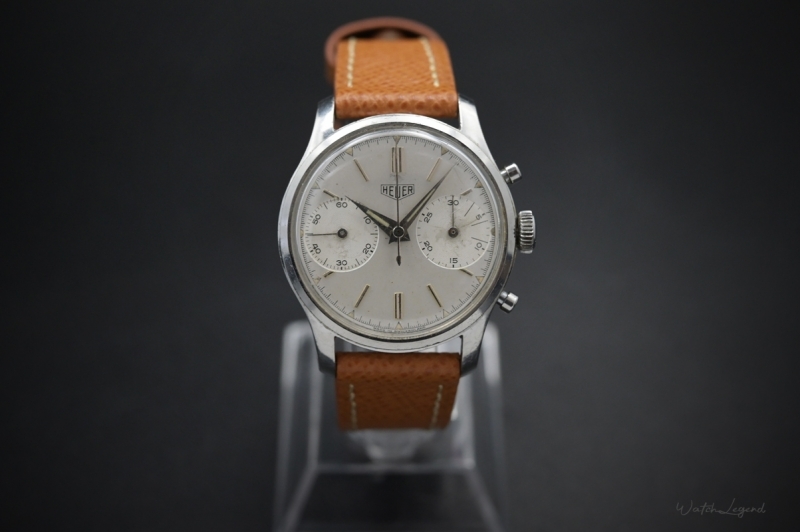  
Heuer pre carrera 404 Big Eyes, valjoux 23
Heuer pre carrera 404 Big Eyes, valjoux 23
Heuer pre carrera 404 Big Eyes

Manual wind movement valjoux 23
Case size 34x41mm
Poly hexback case
Triple signed
History:
Best known for their chronographs from the 50s right up to the 80s, Heuer was a brand famous for their commitment to creating some of the best motorsport and aviation-inspired timepieces on the market. With collections like the Autavia, Monaco, Monza, Silverstone, Montreal, Camaro and many many more under their belt, Heuer's credentials are indisputable.

While some of these collections are relatively well known, few of them compare to the Carrera collection. Released in 1963, the Carrera was Jack Heuer's answer to the growing demand for pure motorsport-inspired chronographs during that period. Like most watches though, the Carrera wasn't an entirely original watch - it was inspired by brand's chronographs that came before. On offer, I have a Heuer ref. 404, affectionately known today as the Pre-Carrera and known as one of the watches that spawned the Carrera, one of the most iconic chronographs ever.

Released in 1959 and offered until the mid-'60s, the ref. 404 is a rare watch to come across thanks to its short period of production. Powered by the iconic Valjoux cal. 23 movement, the ref. 404 is as iconic on the inside as it is outside. Sold in a variety of sizes and dial setups, the ref. 404 was instrumental in cementing Heuer's position as a no-frills, high-quality watchmaker. In addition to its gorgeously preserved silver dial, the example I have on offer here comes with its original baby pushers – so-called for their narrow profile.