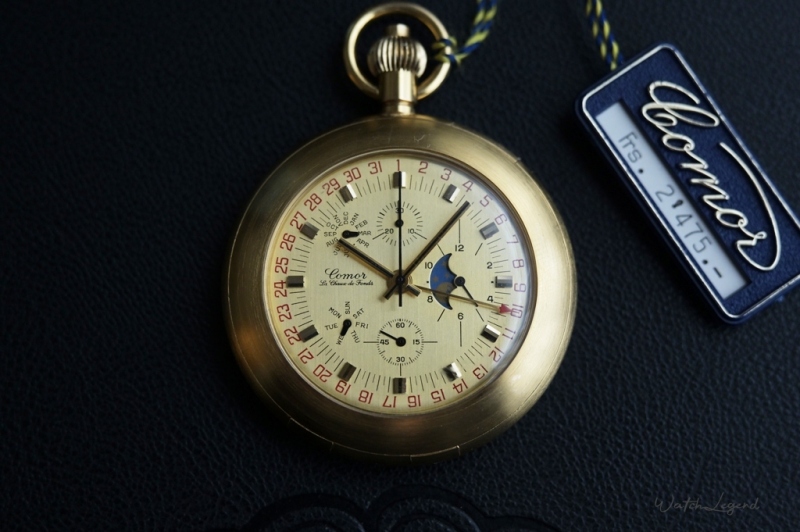  
Comor full calendar moonphase, valjoux 88, nos
Comor full calendar moonphase, valjoux 88, nos
Comor full calendar moonphase, valjoux 88, nos
A Little History
The already existing Swiss company, Comor Watch. was first registered in 1925. It was purchased by Dr. Adolf L. Benz in 1970. Dr. Benz registered the Comor name in Switzerland on 29 October 1970. He registered the name in the the US Patent and Trademark Gazette which was published October 4, 1971.
Dr. Benz had been trained in horology at the Watchmakers of Switzerland and held a Doctorate in Economics from the University of Bern. Dr. Benz began his watch career by exporting watches in the 1960's. He acquired Comor to make quality watches. Dr. Benz assembled a cadre of skilled technicians with talents in watchmaking, watch design, artistic embellishment. Comor watches were intended to be attractive and useful and, at the same time, to be admired as works of art. These objectives lead to a several year collaboration between Dr. Benz' Comor and Tiffany & Co.
Dr. Benz may have had technical watch design skills hilmself. In the Horologic Times issue of July 1989, page 24, is an article entitled "Comor's Chrono-Stop Wristwatch". The article discusses the watch with its fl-back to zero design. The content is quite technical and shows Adolf L. Benz as the author. If the artcle was written by Dr. Benz himself and not a ghost writer, it shows a fair degree of technical knowledge by Dr. Benz.
The first showing of Comor watches was at the 1970 Basel Fair.
The designs were easy on the eye...easy to read and use, some including several complications. Design under Dr. Benz took place mostly in the 1970's and 1980's. Some pieces had enameled miniatures painted and applied in the Benz works. Comor did not produce in-house movements but used ETA calibers.
Dr. Benz passed away in 1992. In 1994 the Comor company was sold to Schweitzer-Uhren of Hamburg. The company was bought by Mme Cinette Robert-Nicoud in 2009. Mme Robert-Nicoud is now associated with the Dubey and Schaldenbrand watch company. The current Dubey website does not mention Comor.
The works were located in La Chaux de Fonds, Switzerland, not far from Bern. The company used a case number to identify each watch.
Dr. Benz had an interest in Auto Road Racing similar to that of Jack Heuer of Tag-Heuer. Comor designed and marketed a watch dedicated to Rudolf Caracciola, a Grand Prix Driver (watch pictured below.)
Comor watches, in a variety of styles with various complications, can be found today in auctions, and from many watch sellers.